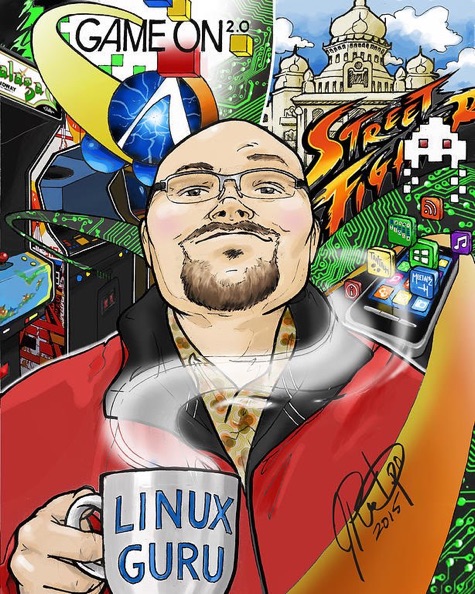 Overview
Jason Eckert
Aside from being 98% chimp, I am a dean, teacher, author, father, grandfather, musician, science buff, arcade game freak, technogeek, software engineer, cloud architect, computer collector, UNIX & Linux preacher, coffee worshipper and outdoor adventure lover. The illustration shown here was created by Choolee (https://art-by-choolee.com) based on her impression of me only. I'm also pretty easy to get along with. Feel free to drop me a line via email (jason.eckert@trios.com), Twitter or LinkedIn (I ditched Facebook/Meta many years ago for good and so should you). You can use the Sections menu in the navbar to peruse my site, or search for specific articles and blog posts using either Search or Archive. Recent articles and blog posts are listed below.
Recent
Bob Gunderson Tribute
Last week, we lost a cherished instructor, colleague, co-worker, and friend. This blog post is a tribute to Bob for everyone who knew him.
An Extra Special Family Vacation
You may have noticed that I haven't been active online or at work for most of September, which is certainly out of character for me. But no, I'm not dead. I've been on vacation spending quality time with my daughter, her partner, and my new grandson from Australia.
Running a Mainstream Linux Distro Natively on Apple Silicon: Fedora Asahi Remix First Impressions
It's been a year and a half since the Asahi Linux project allowed us to run Arch Linux natively on our Apple Silicon computers. Now, the Asahi Linux project is switching their flagship Linux distro from Arch to Fedora to provide a polished mainstream Linux experience on modern Macs.