Parenting
I am a happily divorced proud father of one. I've pretty much raised my daughter since she was 5 years old on my own, and yes, I've made school lunches, threw kids parties, went to great places (Ontario Science Centre, ROM, SportsWorld, Storybook Gardens, Disney World and more!), spent vacations camping/cottaging, and watched far too many Land Before Time movies. The picture on the left is my daughter while we were vacationing at Disney World in Florida over a decade ago. Now that my daughter is grown up, I miss those years. But she recently became a parent herself, so in a few years I'll likely be doing some of those things as a grandparent. Until then, I have a very cute-but-high-maintenance dog that keeps me busy ;-)
Music
I've always been very musical. My main instrument is the piano (for which I received an ARCT from the Royal Conservatory of Music when I was a teenager), but I also love to play the double bass (or Kontrabass). I can also play the violin, organ, bagpipes, and a little harmonica.
When I was a teenager, I gave piano lessons to hundreds of students at George H. Jenner Piano Studios in Cambridge (I guess you could say it was hands-on training). George was an amazing person. He was blind and only had two fingers on each hand, but he could make Liberace sound bad (ironically, George used to tune Liberace's pianos when he performed in Canada). This is George shaking my hand after a piano recital with my students in the mall: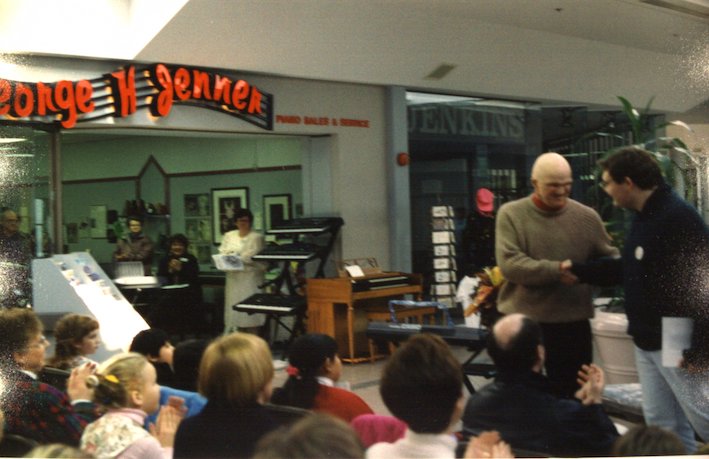 I also loved to integrate my music with my passion for computing (I grew up in the early days of the computing revolution after all). I was a MIDI (Musical Instrument Digital Interface) nut in the 1980s playing with MIDI sequencers and keyboards. My first MIDI keyboard was a white Hohner PSK-75 and my first MIDI sequencer was a Brother MDI-30, which stored songs on 3.5" floppy disks. Music technology has come a long way since then.
Computing & Science
My educational and professional backgrounds can be summed up with two words: computing and science. I became interested in computers at a very early age. In Grade 3, we were introduced to the Commodore 64, and I quickly became a Commodork. The first program I made was a simple program that counted to a Googol (the largest recorded number) by adding a string of zeros to the number one. I surfed BBSes before the Internet, collected/analyzed computer viruses, and learned UNIX from an early age. When my school got sick of my hacking into their ICON and DOS computer labs, they put me in an enrichment program that eventually led to a job as a computer programmer for the University of Waterloo School of Accounting as part of an Advanced Placement program.
But my passion for computing was equaled by my passion for the sciences. As a result, when I finished high school, I went into undergrad science and loved it! Science fueled my passion for knowledge (most scientists are expert mathematicians, statisticians and computer programmers). Science has taught me how to think, question, and formulate concepts; a skill that I use daily and that will last for life. One of my mentors who demonstrates a passion for science is Dr. Peter Chieh, who hired me as a TA for his nuclear chemistry course (and other work such as courseware editing and Web development). When I look back on my educational career, I realize that the casual academic chats that we had regularly in his office during the mid 1990s were instrumental in shaping my passion for science and computing (the mid 1990s was an incredibly exciting time in the world of computing). Thanks to the Internet, I still keep current with new developments in the sciences.
But even during my science years, I still found myself immersed in amazing computing opportunities that I got from hanging around the right places at the University of Waterloo. These included jobs doing programming for Microsoft, Sun Microsystems, DEC, the University of Waterloo itself, and even a Capcom skunkworks project!
During my 20+ year career teaching for triOS College, I've kept myself busy working on extra-curricular projects that keep me out of my comfort zone. This has allowed me to continuously build my skillset, as well as bring great knowledge into my triOS classes (which the students love). I've done some amazing work for Compaq, SHARCnet, UW, MobilityWare, Sony Pictures Entertainment, IBM, Ethereum, CIGI, as well as a wide range of tech startups. And I still do. If it sounds fun and challenging, count me in!
The operating system I use the most on my workstations, servers and cloud hosts today is Linux. I also run Windows for many of the courses I teach as well as macOS to look trendy at Starbucks and credible when doing presentations. My favourite Linux distributions are Fedora and Asahi (Arch). I've also been collecting vintage computers for many years now; everything from Commodore PETs to original Mac 128Ks to NeXT workstations. I've trimmed my collection quite a bit over the years and kept the most iconic and vintage models in my computer room. Check out my Retro Computers page to see some pictures of my collection. Oh, and my rec room coffee table is a 2.5GB IBM 3380 hard drive from 1981: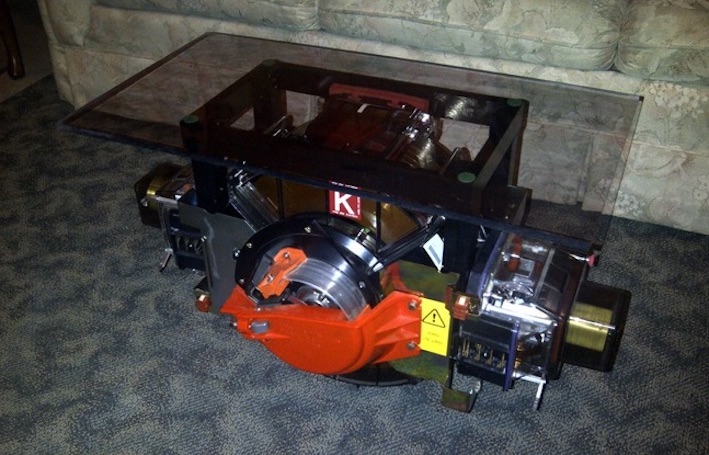 Gaming
I come from an era where video games were the most exciting thing in the whole world. Video arcades were everywhere, and I spent a lot of time playing games on my Atari 2600 and later Nintendo NES, as well as some great text-based games on the family Commodore computer. My favorite Atari 2600 games were Berzerk, Missile Command, Space Invaders, Yars Revenge and Stargate. I've played all the NES Mario games and, of course, the gold Legend of Zelda cartridge.
All games (including video games) are great ways to stimulate your mind, relax and have a lot of fun. Jane Goodall found that playing was vital to the mental development of chimpanzees, and well, we're 98% chimpanzee, so it must be so for us too. Our family played a lot of physical/board games growing up (e.g., Sorry!, Backgammon and Yahtzee) as well as numerous card games (e.g., Wild Rummy, Go Fish), and so my parents didn't think that video games were evil like some other parents that we had in our neighbourhood.
I was heavily into PC gaming during the 1990s (e.g., Wolfenstein, Doom, Day of the Tentacle, Sam & Max Hit the Road, Quake), and later got heavily into console gaming again when the Xbox came out (Halo was brilliant). Although we used to play a lot of LAN games after school at the college (mostly Quake III), I never really liked playing Internet-based collaborative games or MMOs (Massively Multiplayer Games), because they require far too much time and dedication. This is also why I don't play most of the bigger games available on consoles today, but I enjoy watching snippets of other people playing them.
Nowadays, I enjoy playing retro arcade games that are the size of a refrigerator. Back in 2011, I realized that you could buy old arcade machines fairly cheaply (hundreds of dollars, not many thousands of dollars), and I've since made a hobby of buying, repairing and restoring arcade games that I've loved in the past. Check out my Arcade Games page to see some of my collection.