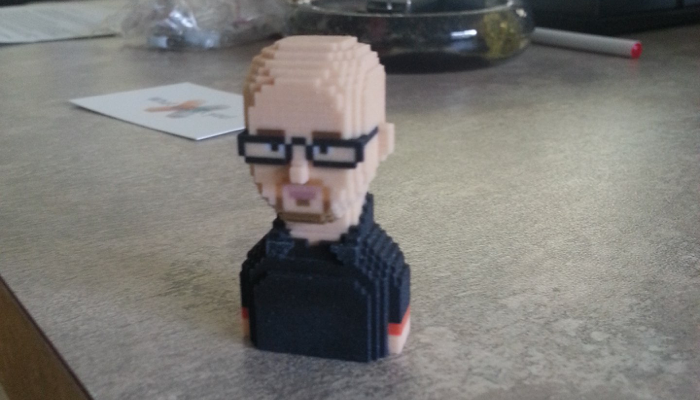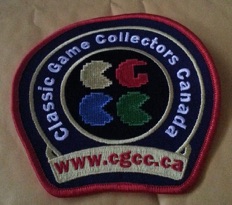 2015 was an interesting year, and one that I really enjoyed!
I spent a lot of time getting/restoring/playing the last few arcade machines that I've wanted in my arcade collection - I just love the retro arcade hobby! As a result, I won't be getting or restoring any more in 2016 at all (I have a few arcades that I want to work on to upgrade, but that's about it). I'll be spending most of my time playing them!
I also met a lot of great people in the hobby this year, and became a moderator on the CGCC.ca arcade forum that I frequent (and have the crest to prove it!). Plus, the movie Pixels came out (an arcade-themed Adam Sandler movie that I have many of the movie props from in my games room) - it was actually pretty good for a silly movie!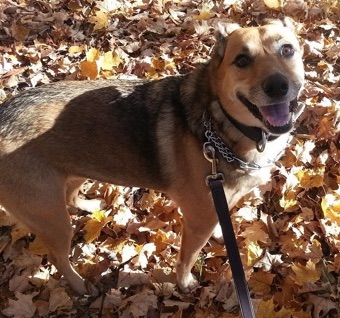 I also spent a lot of time this sunny summer outside with Pepper (my trusty dog) - we live in a great area of Hespeler that backs onto a large park - so, we just walk out our back gate, and play kick ball - or just go for walks down the street to Weaver Park.
When I was a kid, I used to love the area (we used to bike up to Weaver Park all the time), and I feel very fortunate to have spent so many days out walking in the area that I loved since I was a kid!
It may seem weird, but this year I did a lot of reminiscing about past years too. I really missed going to places with my daughter as she was growing up like Storybook Gardens, the ROM, the Ontario Science Centre, Disney World, camping in Algonquin Park, and cottaging in Dwight (or what my late grandmother affectionately called "the north country").
Although I was a single parent during the time, I always made sure I diligently saved enough money for all of these trips since they are so important to building good memories! I used to have a lot of back problems in the early/mid 2000s, and I remember how incredibly painful it was to sleep in a tent when camping, but I'm glad I did it anyways!
Speaking of reflections, I also had a Photoshop bio sketch of myself done by Julie Restrepo that I could use on my personal websites - Jeff Smith found Julie on the Internet (he had her do up a portrait of his wife Jean for Christmas that was pretty awesome). I needed a bio sketch, and had no intention of doing one myself (it's impossible to do a good self-portrait). I was curious to see how someone else would portray me after knowing my background and personality, and I was delightfully surprised at the results, especially the Linux guru part!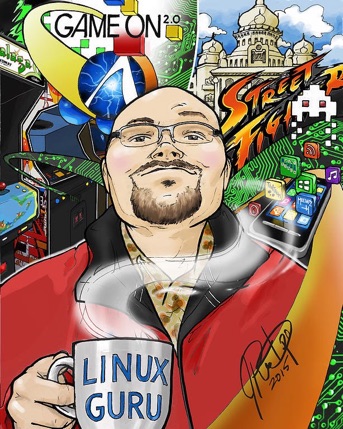 Speaking of Linux, the 4th edition of my Linux+ was also published in January: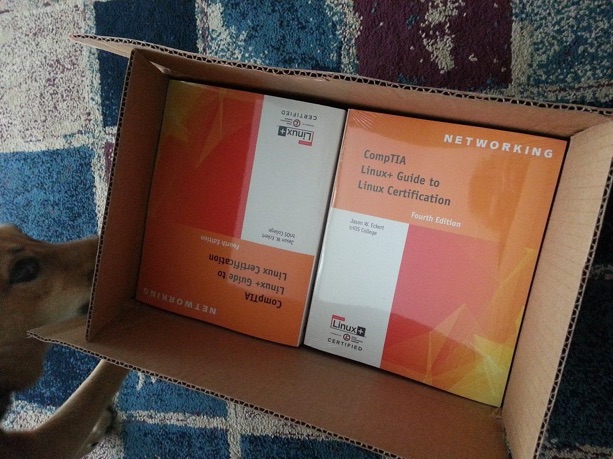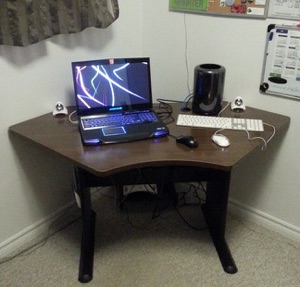 On the work front, I organized another Microsoft-sponsored game jam at our Kitchener campus, and I returned to teaching half days in the spring (although this wasn't my choice, I really missed being in front of a class these past three years). I still do curriculum development and other dean-related stuff, but to a lesser degree now because of time constraints.
I'm a big fan of simplicity in all areas of my life (the UNIX modus operandi), and so I also streamlined my home office environment - I have a single open-concept desk wth my Alienware laptop and Mac Pro (the Mac Pro uses the Alienware as a display - I use Fn+F8 to switch the laptop display from my Mac to Alienware and vice versa). I've since liked working in my home office more than ever before!
Oh, and I turned 40 years old in August! My mother gave me an album with photos from over the years, including some great ones from my childhood - it was the nicest gift I could have received for my birthday! Here's a picture of my sister and I striking a pose when camping: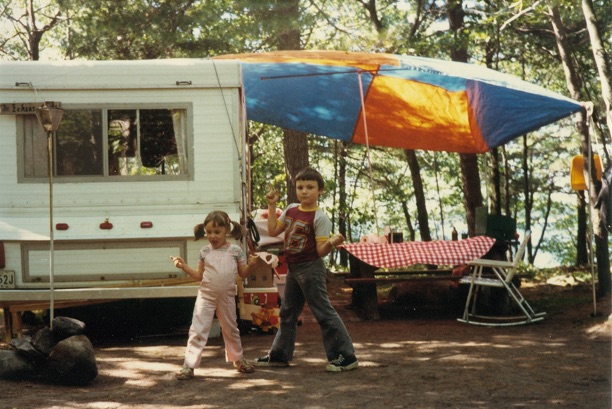 I woke up today feeling great about 2016 - I can't wait to have fun this coming year, and I hope everyone else feels the same. Happy 2016!