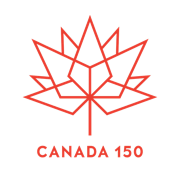 This year marks Canada's 150th anniversary (1867-2017), and while there are some cool events happening this year (e.g. National Parks have free admission), there really isn't a lot of hoopla surrounding it.
However, I have very fond memories of Canada's 125th anniversary in 1992, because that's when I got to go to Alberta as part of a student enrichment event.
In the summer of 1992, the Canadian government hosted an event called Futuretech '92, where 125 of the top students from Eastern Canada were flown to Calgary for a week of educational motivation, and 125 of the top students from Western Canada were flown to Montreal for the same.
Being one of the "smart kids" in my high school, I was given a large number of cool opportunities, and my enrichment counsellor was very pleased when I was selected to represent my high school at Futuretech '92. I boarded a train to Montreal and flew from Montreal to Calgary, where we stayed in the beautiful dorm condos of Mount Royal University.
It was an amazing experience! When we got there, they had duffle bags with cool clothes waiting for us on our beds and the fridge was stocked too. Everyone was hungry when we got there, so they ordered McDonalds for everyone and delivered it while we played football outside to get to know each other.
The event was chalked full of great stuff too!
We flew up to Fort McMurray in a private Air Canada jet to learn about the oil sands (Syncrude gave us samples to take home too).

We got to tour the 1998 Winter Olympics stadium and high jump in Calgary.

We were treated to a real Stampede steak dinner at a very western-style restaurant, where the mayor of Calgary gave us all white cowboy hats.

We were introduced to bleeding edge technology that was being developed at Nortel and Sun Microsystems. Sun was especially incredible for me - they let me talk to the engineers for a while and catch up to the group later (I ended up working for Sun afterwards).

We went to a dude ranch out in the country where we were forced to learn how to line dance to Achy Breaky Heart by Billy Ray Cyrus. They also put us on a horse-drawn hay wagon at night and had the horses run at top speed down the plains (sort of like a country-style roller coaster). I'm still surprised I didn't barf.

We went to Banff (which is beautiful), where we white water rafted down the Bow River, and took the gondola up to Sulphur Mountain (the picture at the top of this post is of me standing at the top of Sulphur Mountain).
Between events, we also had a lot of fun at our dorm condos. Our university student chaperones seriously underestimated how crafty and mischievous we were. We made Ex-Lax brownies for them (with the desired effect), and even relocated all of the furniture from one chaperone's dorm room to the grassy area outside - we made sure everything was laid out in exactly the same way. He was especially upset when he saw us sitting out in the sun on the furniture…..wearing his beloved cowboy boots. We had a lot of fun and formed some great bonds. But sadly, we lost contact with each other after returning to our homes.
Enrichment events can have a profound impact on youth. For me, Futuretech '92 was a pivotal event that convinced me to pursue a career in science and technology, and I still feel privileged to have been part of it. Unfortunately, because it happened long before the Internet became wildly popular, there is virtually no online information about it that I can find. As a result, I've created this post for posterity. If you've read this post because you were part of Futuretech '92, feel free to drop me a line - I'd love to hear from you!