GAME ON 2.0 and triOS College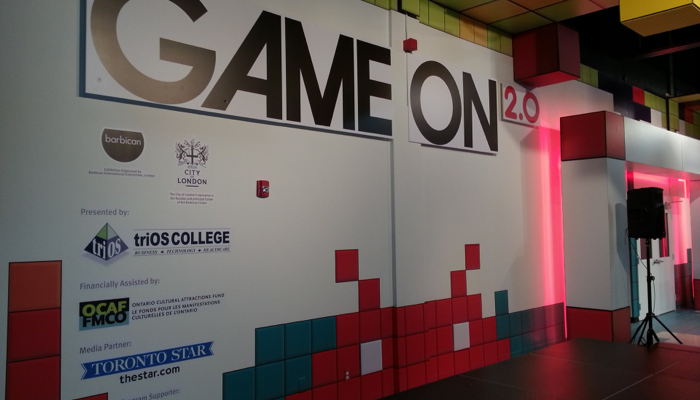 The best technologies are those that spark our imagination. They create a sense of optimism about what "can" be accomplished in the future.
Atari's Pong was one of the first technologies to do this because it allowed us to interact with our televisions, instead of just watching them. And we started thinking about the types of wonderful interactions that the future would bring to our televisions, video displays, and Holodecks (for the trekkies out there). We defended the earth against Space Invaders, and we lived in the virtual world of Tron.
This optimism hasn't faded since. Today we're experiencing an explosion of innovation, and video games are at the forefront…….constantly reminding us that we can take them further. We can play video games today of virtually any type and on nearly any device. We use video games to educate, we use them to engage customers and employees, we use them for fun, we use them to exercise our mind, and we use them to explore and dream.
And in recent years, anyone can make a game and distribute it online in an app store without the backing of a major publisher. Right now, there is a plethora of creativity in the game space, and much of it is being led by the rapidly growing independent or "indie" game developer movement. Nobody really knows where this incredible medium can take us, but we're all willing to find out.
Game On 2.0 allows us to see where video games have been, and get a glimpse of where they may be going. It sparks our imagination just like Pong did at the dawn of the video game era.
Our video game faculty at triOS employs a very strong team of real video game developers with a single purpose: to teach people how to create great games. We have an incredible amount of fun doing this, and we want to help people become great indie developers, or great developers as part of a team in a small or large game studio. In other words, we help people enter the game industry and encourage them to take the video game medium to new heights. This is why we are so excited and privileged to support the Game ON 2.0 exhibition – it shares a common goal with us. We want to encourage people to explore the video game industry – to dream about where video games can take us in the future, and to have the curiosity and drive to make it happen.
We've made an awesome part of the exhibition that has four wings - the two front wings have large displays that people can see from far away that give you some pretty cool tidbits of information about the game industry and game development: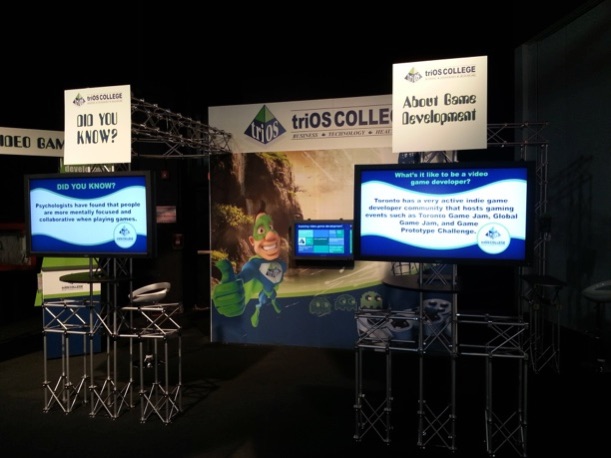 We also have a cool industrial-grade touchscreen in the middle that has a Windows 8-style interface with very cool animation effects that I created in HTML5/JQuery. People can use it to navigate information about game development: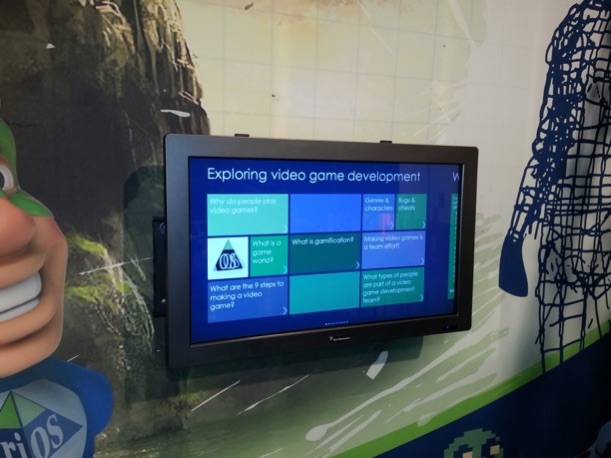 The left wing has a section that will be hosted by rotating video game development students from our Toronto campus who will be developing their indie game during the 6 months of the exhibition - they'll ask people to playtest their games and give feedback about what they liked and didn't like about the game, and then continually make changes based on that to ensure that their game is massively successful. They will also be able to show people what they are doing on their Alienware laptop to develop the game and answer people's questions regarding game development in any capacity! How cool is that?
We also have two stations where kids can make an 8-bit video game character like Wreck-it Ralph. At the blogger preview a few days ago, there were some kids there that did just that: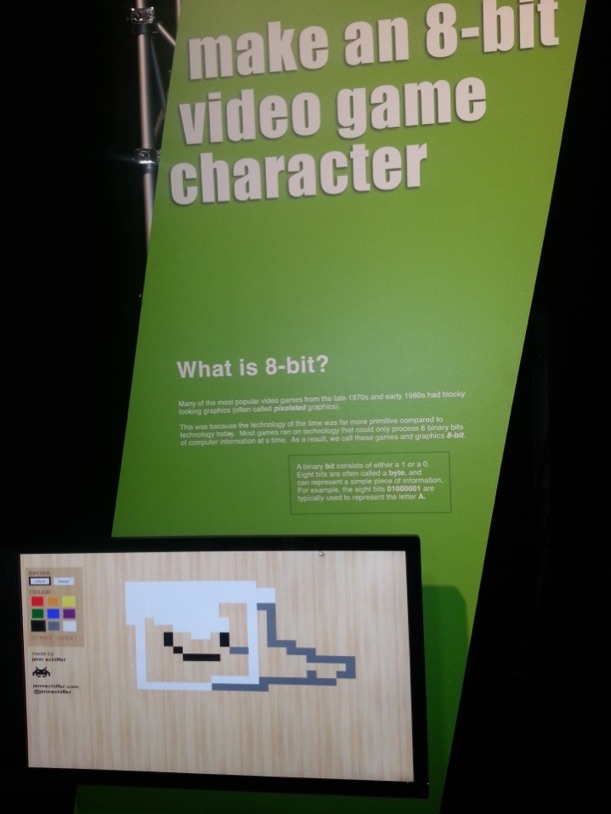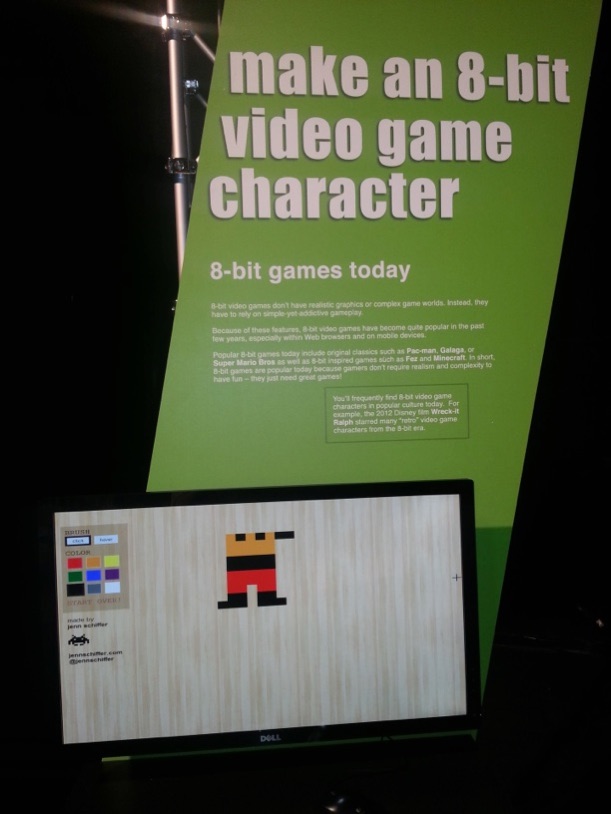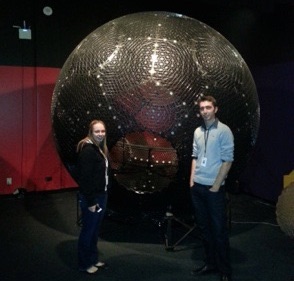 The program used to do the art was made by Jenn Schiffer in HTML5/JS, and she graciously allowed us to use it - thanks Jenn!
We also have two video game hosts at our booth that know all about the game industry, game development, the games in the exhibition, and the games that aren't in the game exhibition. I'm sure they are going to be answering a lot of questions ;-)
Their names are Chris and Felicia, so make sure you say "Hi!" if you are at the exhibition. The picture to the right shows them next to the virtual reality ball (you climb in the ball with a virtual reality gun wearing virtual reality goggles, and play the game running around in 3D space while onlookers see your game on the monitors outside the ball).
It's Game ON starting tomorrow! These next 6 months are going to be absolutely awesome, and you can definitely expect many more blog and social media posts from me about the event. But for now, I'll leave it at that. Just remember that tomorrow…it's on like Donkey Kong!