How our video games evolved over time
I read an article on Ars Technica yesterday that didn't sit too well with me: https://arstechnica.com/gaming/2012/04/what-ever-happened-to-the-american-arcade/
Now don't get me wrong…..I thought it was a great article, and they did a good job of portraying the difference between Japanese and North American culture when it comes to video arcades (which are still very popular in Japan but have pretty much disappeared in North America outside of the Chuck E. Cheese franchise).
The problem is that the article doesn't explain WHY this is the case, and why it will probably never come back. So I'll do it here, since it is fresh in my mind from both experience and recently compositing a book on video game technical design for our video game programming curriculum (it includes a great deal of video game history in it).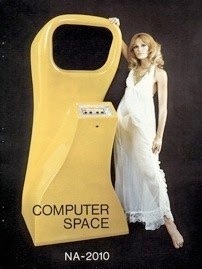 Firstly, you have to understand where and why the video game industry started. In the early 1970s, the first coin-operated commercial video game was Computer Space (see right). Although Computer Space was popular in colleges and universities, didn't sell well anywhere else since it was difficult for the average person to figure out.
One of its creators (Nolan Bushnell) went on to form Atari, which put out some decent but primitive video games in the 1970s (e.g. Breakout). There were several dozen different models of these primitive video games floating around the mid 1970s, especially in amusement parts. People were attracted to anything electric in the 1970s (it was the disco era after all ;-)
In the late 1970s, personal computers started appearing on the scene, and people were more interested in anything electronic since it was new and novel. Several other companies got into the market, including the Japanese company Taito, which created Space Invaders in 1979. Space Invaders was the first game to capture the interest of the public and went on to popularize the video game industry worldwide:
If it hadn't been for Space Invaders, none of us would be where we are today. After Space Invaders, we were defending Earth, against monsters, in sublunar skies. Here they come again…. (Martin Amis, Invasion of the Space Invaders, 1982)
After Space Invaders, everything took off, and it seem like a ton of companies started making video games:
In 1979 Atari released Asteroids.
In 1980, Atari released Missile Command, and Namco released Pac-man.
In 1981, Atari released Centipede, Konami released Frogger, Namco released Galaga, Nintendo released Donkey Kong…….you get the picture.
Technically, by 1981, there were hundreds of different arcade games available and the video game industry grossed US $7 billion (US $18 billion by today's value). Video game arcades popped up everywhere as a place to go to play these awesome games. Movies such as War Games, Tron, and Joysticks were centered around video game themes.
However, the reason people went to video game arcades in the 1980s was that there was a huge difference between the quality of games available in the video game arcades and home video game consoles, such as the Atari 2600 Video Computer System (VCS). Video game arcades had professional controls, colorful cabinets, and specially-designed circuit boards that had dozens or even over 100 computer chips that comprised the game itself - many of these circuit boards had 2 or 3 CPUs just to control the game and sound. These were the same CPUs used in computers of the time, but computers only used 1 CPU. Video game manufacturers put a ton of effort into the hardware, and hardware designs were guarded carefully from the competition.
This is what the original Pac-man looked like on the arcade machine: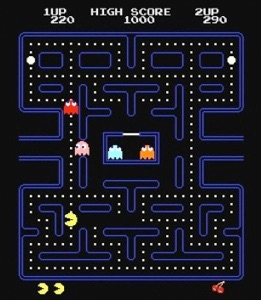 And this is what the Atari 2600 VCS home version of Pac man looked like: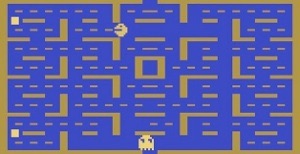 So, would you spend 25¢ to play Pac Man in an arcade? Hell yes!
Video arcades provided something you couldn't get at home. As a result, they attracted a ton of people from all ages who wanted to play with this "amazing new technology." They were a favourite hangout for youth (such as myself) - you could impress girls if you played well, and if you got a high score, it usually meant a free drink or hot dog. Video game arcades created their own arcade subculture. In the early 1980s, even smaller cities had a couple of dedicated video game arcades.
In 1983 and 1984, video game arcades took a nosedive - many of them closed up because they had saturated people's interest - video games weren't a novelty anymore. But people kept playing them - you could still find arcades in each city throughout the 1980s, and it was a favourite pastime for most youths. Even though home video game consoles became more sophisticated (e.g. the Nintendo NES in 1985), arcade games still beat home video games hands down when it came to graphics, sounds and gameplay.
In the late 1980s and early 1990s, video game arcades saw a big resurgence in popularity - video game manufacturers started putting more and more advanced hardware in them to produce faster action, better graphics (some were 3D), and amazing sound. The hardware in a typical late 1980s / early 1990s arcade was far superior to the computers of the time. As a result, arcades attracted people again in large numbers, and rejuvenated the arcade subculture. You could get a date with a pretty girl if you played well at Street Fighter.
But then, home consoles started getting much better. The Sega Genesis started the trend in 1988, and it continued onwards into the mid 1990s with the Sony Playstation and Nintendo 64 (which actually used very powerful hardware designed by Silicon Graphics).
Additionally, PCs started to get very powerful in the mid 1990s with the introduction of the Pentium processor, CD-ROMs, better video cards, and cheaper RAM.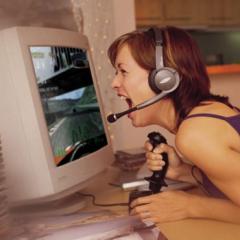 By 1995, the games you could run on your PC or home game console were often just as good as those you could find in an arcade. Although arcades put in bigger monitors to attract people, many people preferred to play games on their PCs since it was something that they had available at home anyways.
Consequently, arcades became unpopular, and the arcade subculture died and was replaced by a home social gaming culture where friends would play together on a computer or game console. This home social gaming culture still exists today with both PCs (e.g. a LAN party where a bunch of people play Quake III Arena across a network), as well as video game consoles (e.g. 4-player Halo tournament on XBox 360).
From the late 1990s until today, another type of gaming culture grew - the online social gaming culture, which involved players playing games across the Internet, from basic games (e.g. Farmville) to complex role-playing games (e.g. World of Warcraft).
Today, games are far more complex than they have ever been, require very complicated hardware (especially high-end expensive video cards), and are designed to be played for much longer periods of time (some require several weeks or months to complete, and offer varied gameplay based on actions within the game).
At the same time, there are plenty of mobile games available for your smartphone that don't require the same time investment in a single play. Here's a quick timeline that sums up how all of these platforms have changed over time, and the key events at each stage, with arcades losing out in the end: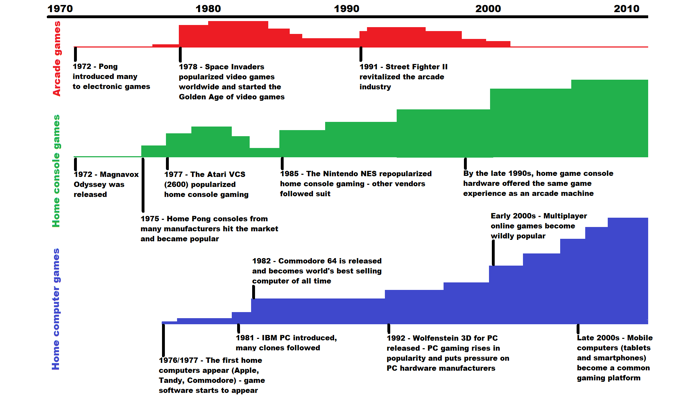 Modern video arcade machines still exist, but are usually comprised of colourful cabinets that contain a PC with a powerful video card. You can either pay $1 or $2 to play a game at the arcade that doesn't have much depth for about 5 minutes, or pay $60 to buy an in-depth game (e.g. Mass Effect 3) and play it on your PC or game console as much as you like for several weeks or months on end.
Clearly, the arcade game doesn't have as much appeal today - gamers in North America have access to far better technologies at home and can use the Internet for social play. Unless game developers develop some bleeding-edge hardware technology that is too expensive to bring to mass market, you won't see a resurgence in video game arcades anytime soon. When you do see arcade games kicking around, they are usually weird/novel ones in the back of a movie theatre or bar and designed to waste a bit of time (e.g. Big Buck Hunter).
However, in Japan, arcade culture is alive and well today. According to the Ars Technica article, this is largely because the social game culture isn't common at home (travel constraints in Japan), and arcades are seen as convenient places for getting together. I'm sure there is more to it than that from a societal perspective, but I don't live in Japan, and I don't know anyone who does, so I can't comment on it ;-) There is one thing I'm fairly certain of though: arcades just don't have appeal in North America anymore because they don't have anything that can distract people from the game technologies they have at home.