How to do an out-of-office auto reply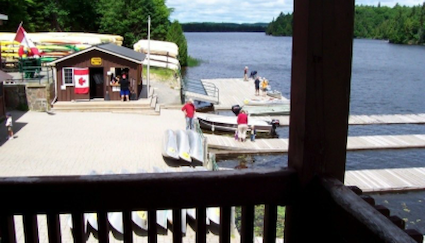 I haven't posted for a while simply because I just got back from vacation today rejuvenated. In IT, you either take vacation or spend tons of $$ on therapy and alcohol. I prefer the vacation :-)
People still email me during my vacation, but I have an Outlook autoreply email configured to let them know that I won't be replying anytime soon (it's your basic "leave me alone because I am on vacation" email). Here is my Outlook autoreply email from this year:
Subject: Out of Office AutoReply: _____
I am currently out of the office on vacation until July 14, and will not have access to email during that time.
If the matter is urgent, please purchase an inner tube and take a Seaplane to the Lake of Bays near Muskoka, Ontario. Land at Ten Mile Bay. Next, swim to the beach on the North-East end and hike up to the old abandoned railway track. Follow the railway track for about 2KM to a small town called Moosecrotch and get a ride to Marsh's Falls (to get the ride, bribe the locals with money, whiskey, or Aqua Velva). From there, use your inner tube to ride down Marsh's Falls and down the Oxtongue river for about 3KM until you reach a rock outcropping on the right hand side of the river that resembles an aardvark (some say it resembles Al Gore). Next, hike South-West for another 4KM until you reach a small community centre for the Township of the Lake of Bays. In this community centre is a small Library. You may have to camp outside the Library for a short while since they are only open on Tuesdays and Thursdays from 10:00am to 1:00pm if Maurice (the Librarian) is feeling good. Once you get in, talk to Maurice and ask him directions on where to get to my cottage….within the first few minutes be sure to tell him that you are a Montreal Canadians fan (you may also have to entertain him for a while as well as see his Celine Dion collection).
Toodles, Jason.
BTW - The bears are NOT friendly in this part of Muskoka.