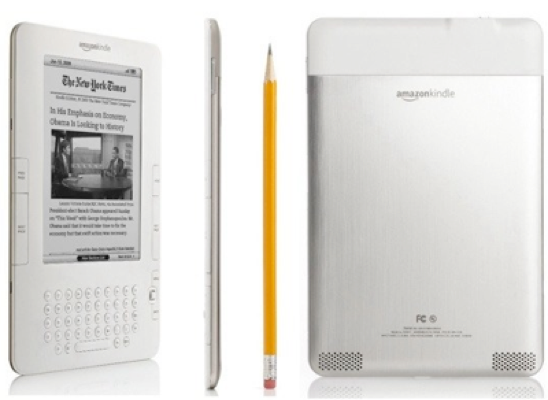 Recently, the Amazon Kindle 2 (International Edition) arrived in Canada (the last country to get it :-), and I recently picked one up. Since its original introduction in November 2007, I have watched reviews of it fly around the Internet and on blogs such as GeekBrief.tv.
Although the reviews were generally positive, I really couldn't visualize myself replacing my book collection with a Kindle for the simple reason that books have their own distinctive "experience" (and smell :-).
However, when I watched the rave review of the Kindle 2 on GeekBrief.tv, my interest peaked. The Kindle 2 is the next generation Kindle - it is easier, slimmer, sexier, lighter, and has a higher quality display and battery life. It was released in February 2009, but not in Canada! In fact, the Kindle 2 reached Canada this past month. But in the meantime, other eBook readers have been appearing on the market to grab a piece of Amazon's cake, but reviews have said that they fail on the user experience side compared to the Kindle.
When you get the boxed Kindle, there is a label on it that says Certified Frustration-Free Packaging - all you need to do is tear a small strip and the box opens up to expose the Kindle and the USB/power cable in a single-piece form-fitting insert that is glued directly to the top and bottom of the box. In fact, the box is perfect as a storage for the Kindle since it wastes almost no space and looks great.
There is already a stunning e-ink image on the display that tells you how to charge your Kindle for the first time. Unlike LCD screens on computers, e-ink displays simulate the look of paper and can be read in all normal light conditions (even outside, where sun glare normally prevents the use of an LCD display on a laptop computer). In addition, e-ink does not require electricity to hold an image on the screen. E-ink only uses a small amount of electricity to paint and repaint images on the screen for the user to read (e.g. turning the page).
On the home screen, there is a Welcome message, the Oxford Dictionary, and a free eBook on how to use your Kindle. After reading this small eBook, you are completely acclimated to the device since the Kindle's interface is intuitive and easy to use.
On the hardware side, the Kindle is thin, sturdy, and sexy. It also has an amazing battery life. The only downside is the absence of a removable SD card slot to expand the 2GB (1.5GB free for eBooks) internal storage. However, when you think of it, a typical eBook is only about 500KB, which means that about 3000 books could fit on the Kindle.
I have been using the Kindle for almost a week now and have just finished reading my first full-length novel on it. After the first day, the Kindle felt exactly like reading a real book (the e-ink display looks just like paper, the thin Kindle design fits naturally in your hands, and eventually you subconsciously press the Next Page button instead of turning the page).
I can definitely see myself replacing my library with eBooks now, and I would recommend that everyone get one!
Now for some eBook format details for the geek readers:
Although I am a Kindle user now, I would never, ever, buy an eBook that had DRM (Digital Rights Management). DRM encrypts contents so that the eBook can only be read on certain devices. DRM on the Kindle is associated with the Device ID of the Kindle. You can associate multiple Kindle Device IDs with your Amazon.com account name, which allows you to read Kindle eBooks with DRM on multiple Kindle devices associated with your Amazon.com account. But it doesn't let you lend a book to a friend to read! That is evil. If I like a book that I purchased, I want to give it to someone else to read (and vice versa) - in essence, I believe that most information should be freely obtainable…..just like the Library Association.
As a result, all of my eBooks are DRM-free! Whether an eBook is DRM-free or not largely depends on the format of the eBook. Here are some common eBook formats:
Mobipocket (*.mobi or *.prc)
The Mobipocket format is a powerful open eBook standard that is based on XHTML. It supports JavaScript, frames (tables), and embedded SQL queries for use with databases. The Kindle natively supports Mobipocket format. O'Reilly sells most of their books as eBooks in Mobipocket format for Kindle users with no DRM.
Kindle format (*.azw)
This format is essentially a MobiPocket format with the high compression setting and (optionally) Amazon's DRM. If you email a file (e.g. Word document) to name@free.kindle.com (where name is the Kindle user name associated with your Amazon.com account), Amazon converts your file to non-DRM Kindle format and emails you a link to download it within seconds. You can then transfer it to your PC/Mac and copy it over to your Kindle with USB.

The Kindle also allows you to buy DRM books from the Amazon store across 3G wireless (they call it Whispernet). You can browse the Kindle store, purchase, and download books across the 3G wireless network for free. However, I would never do that since I don't buy DRM!

You can also email a file to to name@kindle.com, and Amazon will convert your file to non-DRM Kindle format and directly send it to your Kindle across the 3G wireless network (no USB transfer needed), however, they will charge you $0.99 per MB to do this! USB transfer is free.

Additionally, you can also install Kindle eBook readers on your PC or smartphone, associate them with your Amazon.com account, and read your Kindle DRM and non-DRM files. Kindle for PC and Kindle for iPhone are currently available for download. Kindle for Mac and Kindle for BlackBerry will be available in early 2010.

It is important to note that Kindle format does not need to include DRM. Without DRM, Kindle azw files can simply be renamed with the *.mobi or *.prc extension and be used by other devices or converted to other formats.
Adobe Portable Document (*.pdf)
PDF is the current standard used for publishing documents of any type. It allows for DRM as well as embedded fonts and page/graphical elements. As a result, PDF formatted files look the same when viewed on any device. Although the Kindle 2 contains a robust PDF reader, it only supports non-DRM PDFs.
International Digital (*.epub)
This is a relatively new eBook format based on XML that has similar features to Mobipocket and has support for DRM. Most non-Kindle eBook readers (such as the Sony eBook Reader) have native support for epub files. Although the Kindle does not support epub files natively, it does indirectly if they are converted to Kindle Topaz Format (*.azw1), which can also display embedded fonts.
Plain Text (*.txt or *.rtf)
This is the easiest format to display any document, but it doesn't support DRM, different fonts or graphics. All eBook readers support this format natively.
HTML (*.html)
This format can be used to display different font sizes, page elements (e.g. tables) and graphics as does any Web page, however, DRM is not supported. Most eBook readers such as the Kindle support HTML natively, but the actual look of the content will vary.
Now for some "Kindle experience" details for the geek readers:
You really need to hold a Kindle in order to understand the "Kindle experience" - I can't do justice to it here, but I will try :-)
The Kindle has a 532MHz ARM 11 CPU, 16 greyscale e-ink display (6" for the International Edition), and runs Linux (2.6 kernel). This hardware makes for a very smooth user experience. In addition, the screenshots that I have throughout this post were taken on the Kindle itself using the Alt-Shift-g key combination. Here is an example screenshot of a page from an eBook on the Kindle: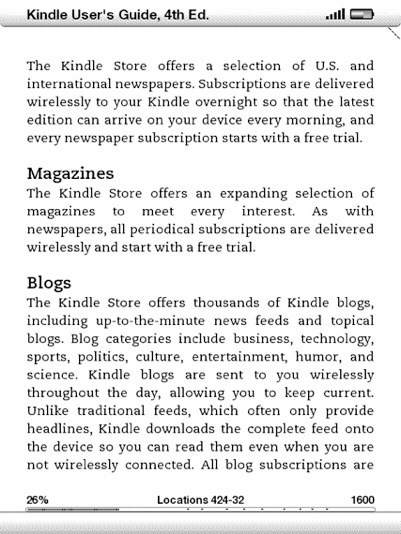 The Kindle experience largely depends on whether you are viewing PDFs or other eBook formats.
For PDFs, content is statically set - so page 42 of a PDF when viewed on your computer will look identical to page 42 of the PDF on your Kindle. This is great for PDFs that use a normal paper size (A4 letter), but for PDFs that use a big paper size, you will need to view your PDF in landscape mode (you can tell the Kindle to switch from portrait to landscape mode at any time and turn the Kindle 90 degrees to see the PDF in a bigger format).
For other formats (*.mobi, *.azw, *.txt, *.html, etc.) the eBook content is viewed in a page-by-page fashion, but the amount of text displayed on each page is not statically set as with PDFs. Instead, it is determined by the user settings (text size and number of words displayed per line). You can also use text-to-speech (male or female voice) to dictate the book to you using the speakers on the back of the Kindle or the headphone jack. To enable these features, simply press the text key on the Kindle and choose one of the options shown below: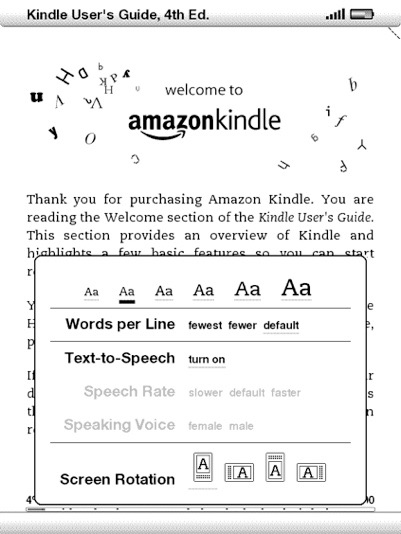 The Kindle also has the ability to play MP3s as well as browse webpages that do not have Flash or Javascript. This may seem restrictive, but it actually works well for the default Websites that are listed in the bookmarks list on the Kindle: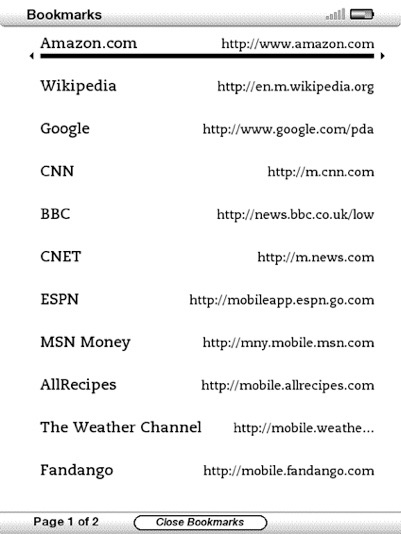 However, to see the quality of the e-ink display, you have to look at a picture on the Kindle - here is the cover page of my PowerShell PDF as shown on the Kindle (stunning!):