What Nokia tells us about the Internet in 2008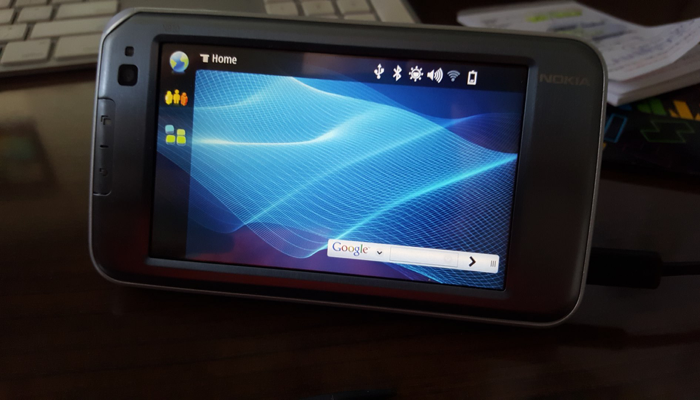 While cleaning out a drawer last night, I came across my old, beloved Nokia N810 Internet appliance that I bought in early 2008. This thing was sexy and entirely made of aluminum. It had a touchscreen (and stylus), backlit slide-out keyboard, expandable SD storage, GPS and front-facing webcam running Maemo Linux on an ARM CPU.
The N810 came out shortly after the iPhone in 2007, and just before Android phones started hitting the market en mass in 2008. But the N810 was not a phone at all. Instead, it was a portable WiFi-only, Internet-in-your-pocket device, and something that appealed tremendously to me when I first saw it reviewed on the GeekBrief podcast with Cali Lewis. Better yet, using the promo code on the podcast gave you 20% off and free shipping if you were in the US. When I phoned Nokia, they gladly honoured the deal for me in Canada, and I scored one for under $400 CDN.
After turning it on again today, I was reminded of how polished Maemo Linux is, and how well it runs apps, even by today's standards. Of course, the version of Skype installed is no longer supported and both the default and Opera web browsers work extremely slow with modern websites, if at all. But everything else runs fast, including Quake.
Each N810 shipped with a promotional video that summed up its appeal at the time in 2008, and watching it again brought me back to that time where the Internet had become incredibly important in our everyday lives and taking it with us was what we wanted to do: https://www.youtube.com/watch?v=IaIfNZSuzO4
The video dropped a ton of terms (Web 2.0, Facebook, Flickr, Youtube, Myspace, social networks, RSS feeds, blogs, GPS, Craigslist, podcasts, etc.) as well as gave us some pretty amazing quotes from different people:
Giving us new ways to record things that happen in our lives
You need this online world with you at all times
It's all totally accessible
Technology is now for everybody
If you can do it, you can do it online
I've been learning how to crochet now from some woman in China
Technology has been able to become better because of the user
The Web is a platform; as much as you take, you can give back
The Web has become a place for people to express themselves; it's an environment that's being created by the people who are using it
My online life IS my life - how I socialize, how I work, how I communicate, how I live
It's a rocket ship that has taken off - coincidentally, you can't stop it
I get to express myself every day
You can just connect with everyone - it's a community - everything is done collaboratively
It's a deeply rich social technology
It's freedom
Ego actually has more value than dollars (my favourite quote ;-)
In short, it's an optimistic video from an optimistic time, where security and privacy were minuscule footnotes in a fast-moving world where people just wanted to do and share more online, from anywhere. I miss those times.