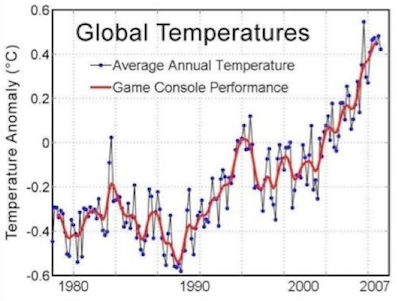 It is now more than 30 years since the first real game console (the Atari 2600) was released in Canada. Below is a timeline of each major console, the CPU/GPU they used and any other neat stuff. Basically, you will notice two important trends:
The console manufacturers love to copy each other - up to the mid-1980s, they mostly had MOS 6502-based CPUs - in the late 1980s and early 1990s, they had Motorola 68000-based CPUs - in the mid-1990s to early 2000s they mostly had MIPS-based RISC CPUs - and today they all have PowerPC-based RISC CPUs and complex GPUs.

The processing power of game consoles has increased steadily since the early 1980s in response to consumer demand. Today, you can cook a five course meal on a Playstation 3 or Xbox 360. The graph here compares the average compute power since 1977 to the average global temperature rise. I can definitely see a correlation here. The true cause of global warming - I can't believe I didn't see it before.
Atari 2600 (1977)
MOS 6507 CPU (based on the MOS 6502 CPU from the Commodore 64)
Atari 5200 (1982) and Atari 7800 (1986)
MOS 6502C CPU (not much better than the CPU from the Atari 2600)
Nintendo NES (1985)
Sega Master System (1986)
Zilog Z80 CPU (same CPU used in the ZX81)
Sega Genesis (1989)
Motorola 68000 CPU (same CPU used by early Macintoshes)
Zilog Z80 for sound
Nintendo SuperNES (1991)
16-bit MOS 6502-based CPU (much faster than in NES)
Atari Jaguar (1993)
Motorola 68000 CPU from the early Macintosh, plus a 32-bit RISC GPU
Atari Jaguar II (1995)
32-bit RISC CPU and GPU (Atari was pretty much dead by this time though)
Sega Saturn (1995)
Two 32-bit RISC CPUs and two RISC GPUs (hard to make games for at the time)
Sony Playstation (1995)
32-bit MIPS R3000-based RISC CPU (same CPU found in early Silicon Graphics computers)
Nintendo 64 (1996)
64-bit MIPS R4300-based RISC CPU (same CPU found in Silicon Graphics computers used to render the graphics in movies - extremely powerful even today)
SGI GPU
Sega Dreamcast (1999)
32-bit RISC CPU, GPU and Sound CPU (very fast and powerful)
Did well in the market, but not well enough to survive the Playstation and Xbox (it was Sega's last game console)
Sony Playstation 2 (2000)
64/128-bit MIPS 5900-based RISC CPU (same CPU found in many Silicon Graphics computers in the late 1990s)
MIPS-based RISC GPU
MIPS R3000-based RISC CPU for I/O
Xbox (2001)
32-bit Intel Pentium III CPU (most common CPU in PCs at the time)
NVIDIA graphics GPU (very nice)
Nintendo Game Cube (2001)
32-bit PowerPC G3 RISC CPU (same CPU in Apple iMac G3s)
ATI graphics GPU
Xbox 360 (2005)
64-bit PowerPC G5 CPU with 3 cores (running extremely fast - the G5 was used in high-end Macintoshes and IBM Servers at the time)
ATI graphics GPU (faster than in original Xbox)
Nintendo Wii (2006)
32-bit PowerPC G3 RISC CPU (much faster than in the Nintendo Game Cube)
ATI graphics GPU (much faster than in the Nintendo Game Cube)
Wireless controllers that respond to 3D movement (for exercise)
Sony Playstation 3 (2006)
64-bit PowerPC Cell RISC CPU with 7 cores (OMFG powerful - runs Linux fast)
NVIDIA GPU (very nice)
Some early models also had the MIPS 5900-based CPU from the Playstation 2 for backwards compatibility for those games (it is now done with just software emulation)