The history of IT certification

Nearly everyone working in an Information Technology (IT) field has at least one IT-related certification. This is because IT certification is commonly used as a skills benchmark for hiring and promotion, and it's been that way for a long, long time.
So where did all this certification stuff start? If you look online, there isn't even a Wikipedia page that can give you that answer - like many things in the technology world that predated the Internet, it just wasn't important enough to keep track of in the Internet Age that started in the 1990s.
The first technology company that offered a certification program for users of their products was Santa Cruz Operation (SCO), a UNIX OS vendor. SCO started offering certification that tested proficiency in their UNIX product line in 1985.
SCO offered three tiers of certification for each of the UNIX products they sold (Xenix, SCO UNIX, SCO OpenServer, and SCO UnixWare):
CUSA (Certified Unix Systems Administrator)
ACE (Advanced Computing Expert)
Master ACE (Master Advanced Computing Expert)
These certifications were often very expensive, and required that you first sat a training course with a SCO instructor. If you you passed the certification exam, you received a printed certificate and a nice desk trophy made of lucite (CUSA/ACE) or crystal (Master ACE), as well as a lapel pin. Here are my old SCO desk trophies: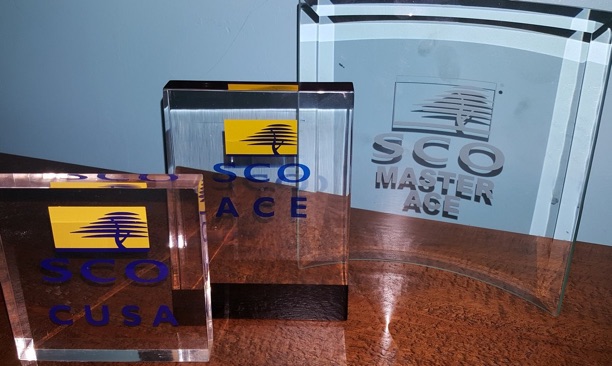 Novell was the second vendor to offer certification. They followed SCO's lead a year later in 1986, and also had three levels of certification for their NetWare line of products:
Certified Novell Administrator (CNA)
Certified Novell Expert (CNE)
Master Certified Novell Expert (MCNE)
By the mid 1990s, many other vendors were also offering training and certification for their products. CompTIA started offering certification in computer hardware and software (CompTIA A+), and Microsoft started offering both IT and developer certifications - the most popular of which were the Microsoft Certified Systems Engineer (MCSE) and Microsoft Certified Systems Developer (MCSD).
While Novell, CompTIA and Microsoft didn't give out desk trophies when you passed their certification exams, you often got a Welcome kit that usually included a printed certificate, lapel pin and wallet card. For a period of time in the late 1990s and early 2000s, if you went to an IT conference or event, you'd see people with these lapel pins plastered on their jacket like an army general ;-) I found a few of my old pins a few years back and stuck them on my office cork board: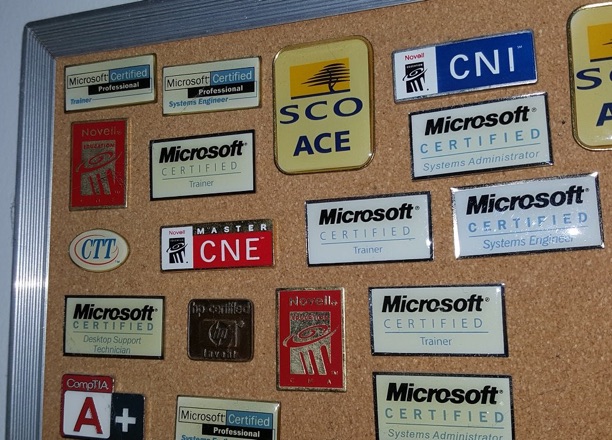 By the late 1990s, certification had become a staple in the IT job market, and there were Sylvan Prometric and Pearson Virtual University Enterprises (VUE) centers around the world offering the exams electronically for a fee. You could take an IT certification exam in most cities, not just large ones!
Once this global testing infrastructure was in place, nearly all IT vendors (SUN, HP, RedHat, etc.) started offering certification exams. By the year 2000, nearly every vendor had a certification exam for their products and technologies. However, as IT certification became the norm, the extras that you got when you passed a certification slowly vanished. Today, you'll usually get a downloadable PDF certificate that you can print yourself, as well as a LinkedIn badge and a massive amount of email spam from the vendor. And it all started with a company called SCO.